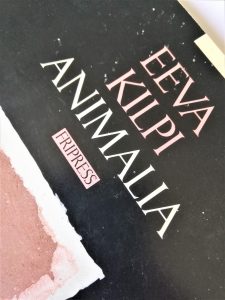 or a dog is not an animal
I wonder about the current trend to analyse new concepts for old phenomena. The trend to look away forgetting the historical contexts of literature, forgetting earlier generations and places.
In recent essays in the morning papers the concept eco or climate poetry is applied as if poets of all times did not sing of nature relations, assaults on the environment, and other beings. As if the trajectory in literature concerning animals was newly invented.
As if Hildegard af Bingen, Mary Leapor (Man the Monarch), Allen Ginsberg (Too much Industry), Ed McGAA Eagle Man (Ho.Wiyopeyata ouye), Aimé Césaire (Chanson de l'hippocampe), Elisabet Hermodsson (Skapelse utlämnad), Eeva Kilpi (Animalia), Meena Alexander (Birthplace with Buried Stones), Chris Abani (Stories), Shailja Patel (She who strides…; Love poem for London), Joy Harjo (A Map to the Next World) and thousands of others never existed, or did not exist today.
And although the specific strength of human culture and narration is the possibility to make conversations across centuries and continents.
I wonder especially about the literary telling of animals. Is there another category that may be spoken and written about as if those included were a lump? Defined in lump without power analysis,  discussed and characterized psychologically in lump ?
Jacques Derrida named the human constructed concept of animals, violence. The violence to gather and transform into a toy, into mere nourishment, into one and the same, into one sole thing.
A kind of semantic violence acted out also against human categories. Scientific facts show that the difference between individuals within an ascribed binary gender category is larger than what can be found between these binary gender categories.
Scientific facts show that there may be a larger difference between individuals within a sort of species, than what may be found between the species. That there is a greater difference between, for instance, the personalities within a dog breed (although the breed was created and formed by humans to erase this variation), than can be found between dog breeds.
A wonderful reality. The evolutionary drift of variation and diverseness does not let itself be tamed without difficulty. The swarm of physical psychological human beings, and other beings, does not let itself get easily subdued.
And yet, over time, there is stillness, and standardization. Voices and squawkings falling silent because of the current writing and its overlooking of history; wheels that are reinvented in an eternal forgetting.
Published in Aftonbladet kultur 6th of August 2016, translated from the Swedish
See also, from 28th of August 2016, The hidden climate poetry
© Arimneste Anima Museum #8