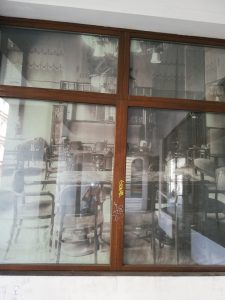 a propos Franz Kafka's Metamorphosis
The year is 1915 and Gregor's room and family are a microcosmos of the European legally maintained patriarchal family order: Gregor must rise at four o'clock, go to his work in the male-coded public space, not speak with a squeaky voice, not yearn to lock himself up in order to write.
To try to fit into the standard pattern would be to perform the right kind of masculinity; to be a correct man and citizen, a cog in the machinery, as in August Strindberg's marriage dramas in which the husband is depicted as a labourer to the parasitical wife (the house slave lacking formal opportunities to study and work).
The person not able to bring herself to behave in line with the called-for order, that is, to behave as either man or woman in the right place with the right kind of chores in the right room, is at risk of being perceived as a monster, vermin, ghost. But before Gregor becomes a monster, he becomes an insect. Gregor turns into a beetle body too big to fit in the passage to the bedroom. He is wrong, in the wrong room, the female coded homey room, where he, most of all, wants to spend his nights writing and his days sleeping in.
Existing as an 'animal' in human society implicates being locked up as a worker to produce goods, or as a body to be consumed, alternatively, putatively, without function, like a bug or a beetle not yet easily exploited in industrial projects; vermin only worthy of contempt. Gregor's human consciousness performs the wrong species gender in the (for him) wrong human room. The family displays xenophobia, and Gregor's behaviour is misinterpreted.
The gender system, detected in Swedish by historian Yvonne Hirdman, may be extended with the species gender system; gender, and species gender, converge into a normative dichotomy pattern of superiority and subordination. Gregor finds himself outside the informal system of rules that ascribes him less humanity (incomprehensible gender) and absence of humanity (incomprehensible species).
However, Gregor is loyal to humanity: 'He felt himself included once again in the circle of humanity and was confiding in both the doctor and the locksmith, without differentiating between them with any real precision, to reach splendid and surprising results.' The doctor could give him medicine and the locksmith could lock him up for life, and the case would be solved!
One's own room becomes a shelter: To hang from the roof, explore the walls, explore the world, like, later on, Virginia Woolf in A Room of One's Own. To act out your true self, although the edicts of the other rooms discard your performance , to speak with literary scholar Judith Butler. The room as an admissible feminist place for queerness, writing, and other incomprehensibilities. The petty bourgeoise family eats meat and Gregor is in his room. Gregor does not want the milk Grete is offering him, he only wants leftovers: 'I really do have an appetite', Gregor said to himself, miserably, 'but not for these things'.
Being subordinated, with the will to eat vegetarian, breaching meat normativity in human society, implies the risk of being treated like the animal one desires to defend. It is to become an artist of starvation; being placed in front of the empty plate. Gregor stays in his room for three months: Is it going to be a cavern with no furniture, or remain human with furniture? The family empties the room, only to let it deteriorate by filling it with waste and clutter. Gregor is excluded in seclusion, Gregor's transformation is the family's transformation: Outside his room, he is hunted by the father with apples and a cane: 'No matter how willing he was to turn his head reverently, his father just stomped his feet even harder'.
Gregor's state resembles the crime victim, the refugee, Jesus' last months. The caring Grete betrays him, like Judas (Gregor has planned to pay for the conservatoire she wishes to attend), exclaiming Gregor as a thing, an animal that 'must be gotten rid of'. The meat-eating lodgers perform as the three stupid, rather than wise, men, and the cleaning woman's testimony concerning Gregor's resurrection is never permitted to be enunciated before the uninterested family.
All since Gregor, according to the family-society, has invaded them: 'this animal plagues us.' Gregor is guilty of no longer being able to support the family, of being deemed disgusting to the family, of not fitting into the family order, of being the scapegoat. Gregor is imposed with the responsibility for his marginalization, and is made into dirt, and subsequently into a corpse (that resurrects). Gregor 'must die' but is 'alive until dawn'. When Gregor has died, the family moves to a smaller apartment, and looks forward to Grete's debut on the marriage market, where she, with her 'voluptuous' body, may obtain 'a canny man'. The absurd system makes a new round.
Before the human family has been transformed into persecutors, Gregor ponders: 'But how would things go if now all tranquillity, all prosperity, all contentment should come to an awful end?' The prophetic body bears witness to what will happen in the coming fascist ideology and morphology; what will happen to the one who is ascribed the categories constructed as worthless and, step-by-step, is politically transformed into an insect, betrayed by humanity. The method of creating fear, and contempt for weakness, the stigmatization of subordinated minorities: Say that they are like X, say that they are X, interpret them as X; say that they are the ones we habitually annihilate or must annihilate.
'Nobody seems to have had so much in common with so many as this lonely author who less than others knew whether he had something in common even with himself', Karl Vennberg introduces the translation of Kafka's short story in 1964. However, and assuredly, The Metamorphosis features, prophesises, and reminds us of our basic ontological mistake: To be transformed into an animal we must presume that we are not animals, but we cannot become that which we already are. We cannot become animals since we already belong to the group (everyone to the exact same degree).
The approaching human calamity will get a planetary dimension. Even in the universal space, the annihilation is followed by far-reaching consequences. Forestry's pillaging and extinguishing of insects, creatures with mind-bodies capable of navigating home by the moon and the stars, entail diminished pollination, deficit of colours, limited crops, lack of food, curtailed future. Thus, The Metamorphosis conveys the utmost common existential refugee question: Where is my home and how do I get there?*
To be with the animal in its body, acknowledging the animal kinship residing in each and everyone's body, is an exercise in empathy and sympathy. A tentative transformation that may disarm and dislodge both the fascist threat and the threat from the Anthropocene. Refusal to eat the offered combination of contempt for animals and contempt for oneself is the starvation artist's anti-fascist resistance. Gregor's human insect protest appears immortal when, instead of distancing itself from the first and last victims, it desperately laughingly mirrors the situation and magnifies the minimization.
* In The Lives of Animals, J.M. Coetzee writes that Red Peter in Kafka's Report to an Academy asks himself this question in human-managed captivity.
Bild: Café Arco, Dlážděná 6/Hybernská 16, Prague
Published in AAM 20170921, translated from the Swedish
©Arimneste Anima Museum #6